In Kind DONATIONS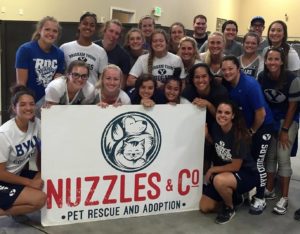 Many people don't realize that our 16,000 square foot Rescue Ranch was made possible through many generous in-kind donations. From windows, to paint, to flooring, and furniture, much of what you see at the Ranch was donated by regular folks, just like you.
At Nuzzles & Co., we are always in need of more items than you ever could imagine! Here are just some of the things that we regularly need – and sure appreciate from the community.
These items include:
Our greatest need is Cat Litter, Wet Cat and Dog Food, and Bleach
Cleaning Supplies

Industrial mop buckets, handles, and heads

Brooms

Trash bags

Paper Towels
Bleach

Hand sanitizer

Pet Supplies

Treats for cats and dogs

Nylabones

Pet bedding, leashes and gently worn toys

New and gently used cat and dog beds

Puppy Pads

Litterboxes

Unused vehicles
Refrigerators, stoves, washing machines and dryers
Unused medical supplies and reusable medical equipment
Office furniture
Volunteers. Are you a member of a church group or charitable organization? At the Ranch we have thousands of hours of work service to offer. This includes everything from Community Cat Room makeovers, to landscaping, hammock building, and other projects for volunteers of all ages!
Own a business? We regularly receive in-kind donations from our local veterinarians, landscape and snow removal companies, electronic suppliers, construction companies, plumbers, and other independent contractors.
Donate a space. We are always looking for great venues to host events for our donors and supporters.
If you have items to give – feel free to drop them by the Adoption Center or the Ranch. For more information, contact info@nuzzlesandco.org
In Kind Donations