We've got great news for Pups, and the People who love them! Nuzzles & Co. is now offering a wide variety of Behavior Training, for every dog and puppy's needs.
Learn more about our Best Behavior programs, at the link:
Here's a great special that will give your new pup the winning edge, in behavior training. We're offering a 15% discount on classes, when you sign up for classes at the time of adoption.  And here's more good news! Anyone who refers us to a new client, also receives $15.00 off a class or private session.
Classes fill up fast! For more information, or to book your sessions, give us a call at (435) 608-1424
ABOUT THE TRAINER – TRACI MADSON, CPDT-KA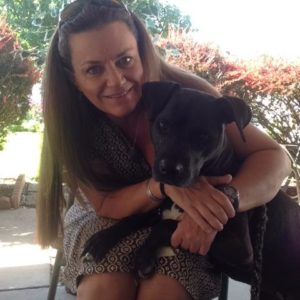 I began training dogs almost 20 years ago when I joined my town's local search and rescue group and became interested in training a search dog.
Following this, I was honored to be chosen by Best Friends Animal Sanctuary to adopt one of the dogs rescued from the Michael Vick dog fighting bust.
I started as an official positive reinforcement trainer at the beginning of 2013 and later started Three Little Pits Pawsitive Dog Training, named after my three adorable pit bulls. Along with a few private clients I began volunteering with two local rescue organizations, Friends of Animals and Paws For Life, and would work with dogs that had behavioral issues in order to get them to the point in which they could be adopted.
In January of 2014 I was deployed by the Humane Society of the United States to volunteer with the 367 dogs rescued from the second largest multi-state dog bust. There, I learned a lot about dog behavior and was able to observe how each dog was evaluated. That experience gave me even more motivation to want to help other dogs overcome fear-based behaviors so that they can remain in their homes rather than end up in the shelter.
Currently, I work with private clients who want basic obedience or some who have dogs with behavioral issues, and am the official Nuzzles & Co. dog trainer. I also have extensive experience working with Therapy Dogs and also training them through the process of certification.
I offer puppy classes where basic obedience and manners are taught, as well as how to have a positive experience while visiting the vet. While working full time at a busy vet clinic, I have seen first-hand the importance of ensuring that your pet has the most positive experience possible. Early socialization and play with other puppies is also emphasized in puppy classes.
In my spare time I enjoy hiking, snow shoeing, camping, reading, and spending time with friends and family. I also play several instruments and love getting together with friends for a good jam session!